Welcome to the Future cultural landscape dynamics explorer
About
This explorer contains data from work Package 5, where a model-based assessment of processes of change in cultural landscapes were made. This deliverable evaluates potential future threats to cultural landscapes at a European scale.
Based on population projections and changes in global trade (liberalized or regulated), land use regulation (level of forest protection), bioenergy demand and other factors, the demand for agricultural land and urban in each world region by 2040 was simulated with a series of economic models. Within Europe, these areas of land that are required were next allocated to the most likely locations in Europe. Which locations are the most likely depends on the biophysical characteristics of the landscape, but also on land use in the vicinity, policies that protect or stimulate specific land use or specific areas, and on the present-day land use.
Explore the map or read more information below.
Scenarios
Reference scenarios as defined by VOLANTE project.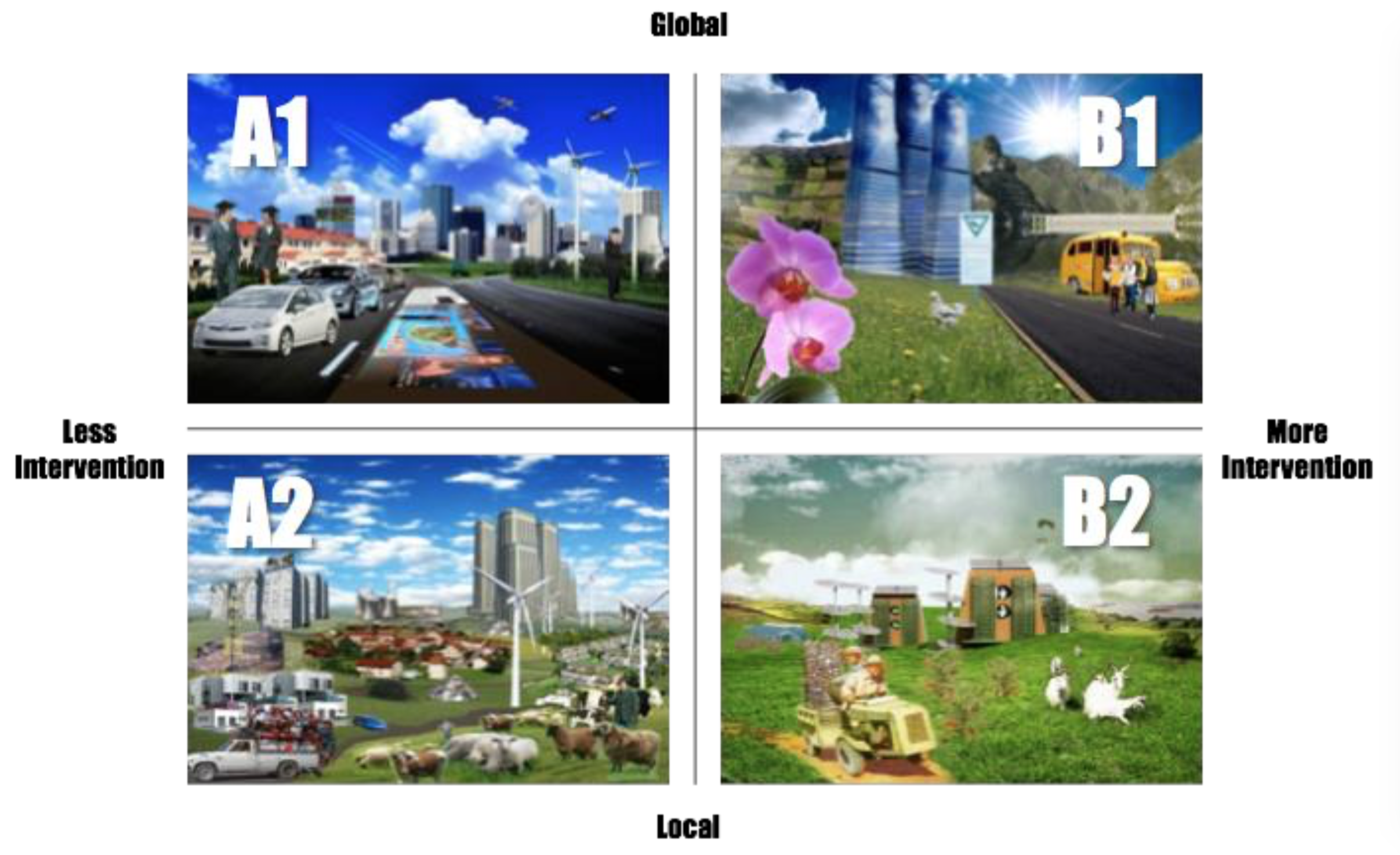 An analysis of future land use changes in Europe up to 2040 has been done in the VOLANTE FP7 project. VOLANTE used a set of explorative scenarios based on SRES as reference scenarios (figure above) and additionally explored a range of policy options, which disentangle and highlight the impact of, for example, restrictions on urban sprawl or strongly enhanced nature protection. The reference scenarios cover a broad range of plausible future developments and therefore provide a suitable framework for analyzing changes in European cultural landscapes. In this deliverable, we focus on the main, reference scenarios. The scenarios are structured along two axes, one ranging from local development to global development, while the second axis indicates the level of government intervention.
Land use change trajectories
Land use and land cover changes were summarized into fourteen land change trajectories that represent well-known and significant land change trends in Europe (Sturck et al., 2015).
| Land change trajectory | Short description |
| --- | --- |
| Stability | No change in land cover nor land management intensity |
| Intensification and de-intensification | Change in land management intensity |
| Expansion and decline | Land cover conversions |
| Land abandonment | Conversion of agriculture to green space |
| Recultivation of green space | Conversion of green space to agriculture |
| Recultivation of pasture | Conversion of pasture to cropland |
| Polarization of rural land | Parallel land abandonment and intensification in remaining agriculture patches |
| Urban growth | Growth of built-up area which adds to an urban core |
| Peri-urban growth | Growth of built-up area located in the rural-urban fringe |
| Expansion of wild areas | Conversion of agriculture and intensively managed forest to a more natural vegetation cover, adding to contiguous patches of nature |
| Contraction of wild areas | Conversion of wild areas to built-up area, agriculture or high intensity forest |
Additional resources
For more information, please take a look at deliverable report: D5.2 EU scale analysis of future cultural landscape dynamics and a paper: Simulating and delineating future land change trajectories across Europe.